Conservation MN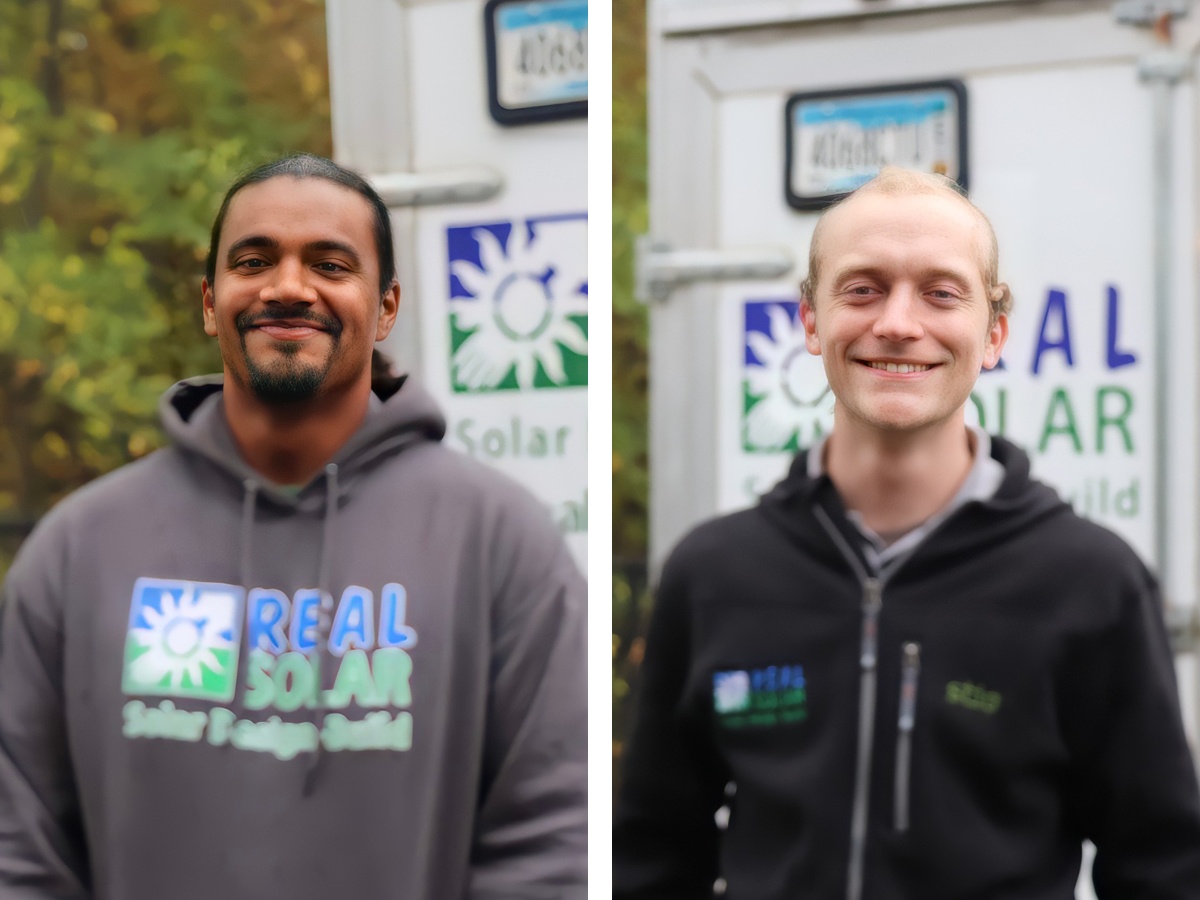 News
Climate Voices—Simon Eddy & Anthony Fair
Nov. 30, 2021
Clean Energy Jobs in Rural Minnesota
Solar energy is the second fastest-growing energy source in Minnesota, behind only wind. But more wind and solar installations need to be built for Minnesota to produce enough energy to meet in-state demand while reducing our climate change-causing emissions. 
In rural Backus, Minnesota, Simon Eddy and Anthony Fair work for REAL Solar, bringing home-grown energy to households and businesses. Eddy as a Sales & Project Management Specialist and Fair as an Install Tech & Site Supervisor. Both enjoy the work and its impact.
Local Energy
"One of the coolest things about solar is that it can be installed essentially anywhere. People consume energy everywhere they live in modern society." From consumption to production, solar energy has the power to be hyper-local. "You don't need a 3-story office building in a metro area to host a solar business. We operate out of a renovated pole building with small office space, warehouse, and garage area in a very rural town."
And business is good. "Our company has been growing every year, along with all of our neighboring solar companies. Everyone I know is busy," says Eddy. "Solar is an incredible industry to work in. People I meet are mission-driven and happy to share information." 
Career Path
How do you get a job in the solar industry? Eddy came from a background in materials engineering. While earning his degree, he enrolled in a single solar class, then interned for a solar installer. Once hired by REAL Solar, he took about 60 hours of solar-specific courses through the Midwest Renewable Energy Association for under $1,000. Once he completed the courses and passed a baseline solar certification test he became a NABCEP Associate.
For workers looking to advance their skills, solar conferences, energy fairs, and free online webinars are in abundance. On-the-job training is also a critical part of the career path. Eddy says if you're interested in joining the industry, "walk into your local solar installers office, and ask them for basic info and what they look for in employees. Like any other local business, they are trying to sell things to local people. They will greet you happily."
Good Jobs, Great Impact
Both Eddy and Fair enjoy the work they do. Fair values working in the outdoors while not sacrificing a good-paying job. "Being out in the wilderness is it for me. Being by the trees and the wildlife, away from all the noise, it's peaceful." His connection to the outdoors is part of the reason the impact of his work is important.
Solar energy impacts communities in more ways than one. REAL Solar partners with Rural Renewable Energy Alliance, a nonprofit whose mission is to make solar energy accessible to people of all backgrounds and income levels. Partnership projects often bring them to jobsites in communities far from the metro area. These projects include working with Habit for Humanity, White Earth Nation & Leech Lake band, and Solar for Schools which installed solar on five high schools and community college campuses in central Minnesota. 
Working with historically under served communities helps address some of the energy inequalities around the state. "Solar is a great way to empower a local community. You are producing electricity on-site or location. There are financial benefits to doing this that can put money into the local community's pocket in an environmentally respectful way." 
Helping Preserve our Resources
Solar workers impact communities that need clean energy, and they leave a climate legacy for future Minnesotans. "I think it's important for our children's children… so they can have the same enjoyment we have fishing and enjoying the state," says Fair. 
Eddy agrees, "I wanted my job to directly make progress on slowing the crisis we see across the globe. You don't have to pick a political side to see that we are polluting, losing biodiversity, and destroying our natural resources." 
Supporting clean energy in Minnesota is not just a cost-effective form of energy but an essential step in fighting climate change. Congress's Build Back Better Act will support clean energy jobs and preserve our natural resources for years to come.