Conservation MN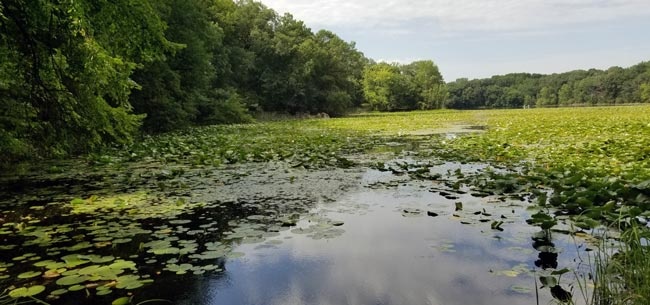 News
Dakota County Engages the Public on Conservation
July 30, 2019
Progress in Dakota County
Throughout my time working in the Southeast Metro on state and local conservation issues, I've noticed a trend: Dakota County has proven their desire to engage the community they serve. Stakeholder meetings, public listening sessions, open houses, and advisory committees in Dakota County often find their way onto my calendar. In 2016, I was a technical advisory committee member and gave input on the Dakota County Natural Resources Management System Plan.
At discussion sessions on the development of a new countywide Land Conservation Plan, we learned what the County has done around natural resources and what folks thought the County should be focusing on in the future. Since 2003, the County has completed 121 projects totaling more than 11,000 acres and including 95 miles of shoreland.
Opportunities, especially around water
Areas of the county have important natural areas that still need attention. Many wetlands are in need of restoration and stormwater runoff is increasing. It's clear that to be successful, ambitious goals to better the community's land, air, and water need long-term natural resource management plans and greater collaboration with landowners and land management agencies.
The Dakota County Groundwater Protection Plan workshop in May 2019 provided another great opportunity to represent our Conservation Minnesota members in Dakota County and give stakeholder feedback. Over 90% of Dakota County residents get their drinking water from the ground, so, naturally, protecting this resource is a top priority. There's already a plan in place, but as things change and new information comes to light it's important that the plan reflects necessary updates.
A growing threat to the county's groundwater safety is the presence of nitrates, which are a biproduct of nitrogen-based fertilizers. Dakota County has coarse, sandy soils and fractured bedrock that allows pollutants on the surface to quickly seep down into the groundwater. This is of great concern. Testing has shown that 27% of 1,391 private wells in the county exceeded the 10 mg/L nitrate standard. There is much more work to do to give private well owners and municipal water customers the peace of mind that their water is drinkable.
Moving forward
I look forward to continuing to work with Conservation Minnesota members, local activists and decision-makers to help achieve their goals and vision for a healthy conservation-minded community.
If you live in Dakota County and want to know about future opportunities to support local conservation efforts, don't hesitate to drop me a line:
avery@conservationminnesota.org
612.767.1572