Conservation MN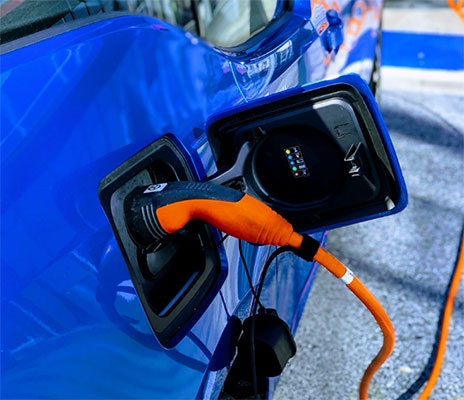 News
Electric Vehicles: Cities Taking the Lead
April 17, 2019
I recently attended an inspiring Clean Energy Resource Teams (CERTs) and Great Plains Institute (GPI) event called EV-olution: Charging Ahead with Electric Vehicles in MN Communities. What I learned is that cities are doing some pretty amazing work to transition away from traditional fuel vehicles here in our state. In early 2018 both GPI and CERTs formed Cities Charging Ahead!, a peer cohort made up of 28 cities throughout Minnesota. They all work together to explore how ready their communities are to adopt and implement electric vehicles and charging stations.
The event kicked off with Mike Salisbury who works as the City and County of Denver's Transportation Energy Lead. He focuses on promotion of electric vehicles throughout city operations and is currently working to meet a lofty goal of 200 electric vehicles (EVs) in their city fleet by 2020. Obviously, this sort of target is not realistic for many communities here in Minnesota but that's not stopping cities like Marine on St. Croix, Virginia, Warren, Winona, Fridley, and Hackensack from exploring their own path toward an electrified city fleet.
Electric vehicles can still be fairly expensive but those prices are steadily trending down as there are now 40 plug-in vehicles available in the Midwest ranging anywhere from $143,000 for the BMW i8 to just $22,490 for a new Nissan Leaf (after the federal tax credit for EVs). They quickly pay for themselves because charging a vehicle is much cheaper than gassing it up. There are no oil changes for an electric car and very limited engine maintenance is required. Unfortunately for us here in Minnesota, only 14 of those 40 cars are available to consumers.
City fleets are certainly not the largest source of emissions from the transportation sector but they play an important role as community leaders. Cities and their day to day work are highly visible and they have the unique ability to lead by example and provide the public with infrastructure to charge their own electric vehicles. Without access to charging stations, people in Greater Minnesota will not want to drive electric. At Conservation Minnesota, we tip our hat to Cities Charging Ahead! and whole heartedly agree that electric vehicles are an important part of creating a healthy and efficient transportation sector for future generations.