Conservation MN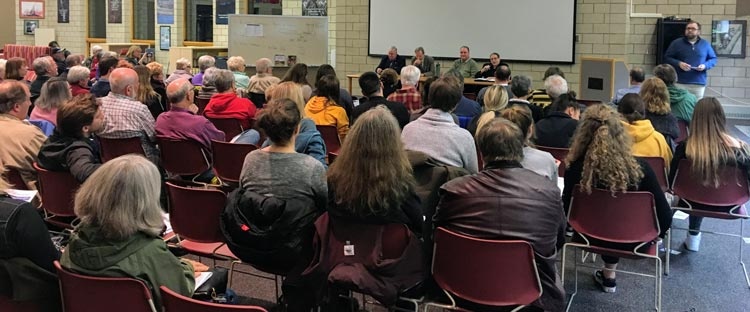 News
Environment Town Hall with Local Legislators
Nov. 1, 2019
I recently hosted a town hall event with legislators from Apple Valley, Eagan, and Rosemount to discuss conservation issues. Senators Jim Carlson and Greg Clausen and Representatives Robert Bierman and John Huot were all kind enough to join us at the School of Environmental Studies in Apple Valley to talk with constituents about their environmental concerns. Special guests included Mayor Mary Hamann-Roland of Apple Valley and Mayor Bill Droste of Rosemount. Nearly 90 people came out to learn more, talk about the issues that matter to them, and hear from their local leaders about what they are doing to protect the Minnesota we all love.
Before we took questions from the public I thanked the legislators for their votes to ban trichloroethylene (TCE), expand the list of household products prohibited from containing toxic flame retardants, and put Minnesota on a path to 100% carbon-free electricity. Each vote listed was met with applause from the audience. Unfortunately, only the flame retardant ban made it to the Governor's desk to be signed into law.
Questions throughout the night centered around recycling and composting, electric vehicles, energy efficiency, road salt, and much more. Each of the legislators took time to address the questions and voice their support on tackling climate change by making Minnesota a national leader on renewable energy, efficiency, and electric vehicles. They also voiced support for increasing recycling and composting, being smarter about salting our roads, and finding funding to help communities take on environmental initiatives. Mayors Hamann-Roland and Droste fielded questions highlighting the great work their cities are doing around water quality, smart salting, and increasing recycling and composting opportunities.
What a great night and thank you to all who were able to make it for making the discussion so productive!