Conservation MN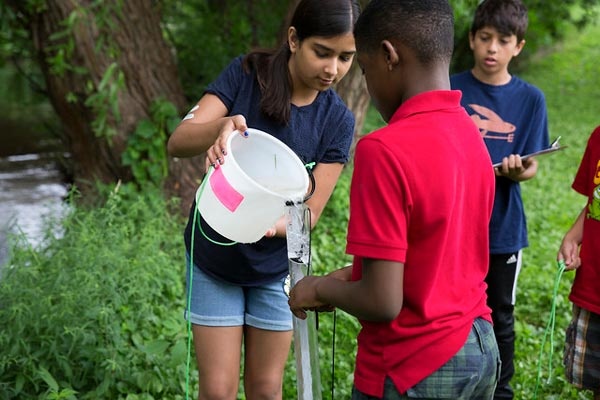 News
Minnesotans Agree: Kids Need the Outdoors
Aug. 19, 2019
No Child Left Inside
In a legislative session that featured many high-profile issues that divided our representatives, it was easy to miss some of the issues that didn't. While some environmental issues like clean energy and clean water initiatives weren't successful this year, one piece of legislation that united Minnesotans within and outside the Capitol was No Child Left Inside (HF 133).
Authored in the House by Representative Jamie Becker-Finn, the bill gives funding to the Minnesota DNR to help schools and community groups— particularly in areas with high percentages of kids living in apartments or urban environments—pay for field trips and opportunities for children to get outdoors. The number of school trips to places like Tamarack Nature Center in White Bear Lake and Richardson Nature Center in Bloomington are at about half of what they once were. This is a small rebound since the recession of 2008, which led to a drop in participation and funding.
Building connection with the natural environment
I can't think of a time where this kind of initiative has been more important. Our disconnection from the natural environment has led to serious environmental consequences.
I recently spent time with a friend and her kids in the suburbs. They had lived in a condo for the first few years of her 6-year-old's life and his discomfort and even fear with anything outside of a manicured lawn was shocking to me. His parents struggled to get him outdoors at all because of his fear about grass clippings on his feet, flies in the house, and anything remotely resembling a bee. When they finally succeeded, he couldn't enjoy it. His fear of the most basic parts of nature had them considering terrible environmental measures like insecticides and pesticides just to enjoy a dinner on the deck. I explained to him that carpenter bees are harmless but big in order to scare other bees, and I spun a story about the scat in his yard and the raccoon or possum that left it there. But what he really needed was outdoor adventures, surrounded by his peers. The experience reminded me that not all kids are being raised like mine, to experience nature often and in a hands-on way.
At Conservation Minnesota, we work to protect the Minnesota we all love. In order to produce new generations of good stewards, we need to help kids develop a deep appreciation of the outdoors. No Child Left Inside is a brilliant way of encouraging a love of the Minnesota outdoors.
For more information or questions, please contact Anna at Anna@conservationminnesota.org.