Conservation MN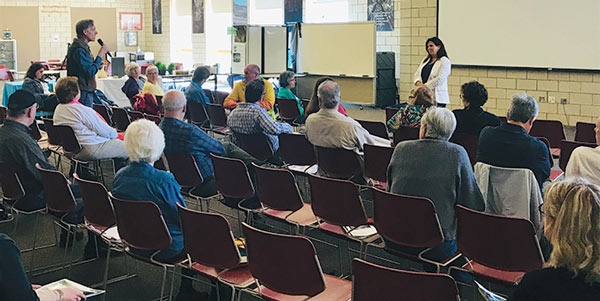 News
Summer 2019 Newsletter: South Metro Water Forum Success
June 14, 2019
Everyone has the power to impact the quality of the water in our state—from local residents to the MPCA commissioner. On a Saturday in early May, over 60 citizens and a dozen elected officials came together at the South Metro Water Forum to discuss how participants could impact water quality in their communities. The Water Forum was organized by Conservation Minnesota's South Metro Regional Manager Avery Hildebrand, with support from local Conservation Minnesota members.
The goal of the Water Forum was to educate all who were interested in water quality successes and challenges. Several exhibitors participated, providing opportunities for attendees to sign up for local actions they could take in their own community and homes. Forum presenters included members of the Minnesota GreenCorps, the Eagan Water Resources Manager, and the Dakota County Groundwater Protection Specialist.
The keynote was given by Minnesota Pollution Control Agency Commissioner Laura Bishop. She focused on the importance of working together to find solutions to our water quality problems. Commissioner Bishop is prioritizing interagency collaboration, emphasizing the importance of public engagement, and listening to Minnesotans from across the state.
The event inspired those who care about our water resources here in Minnesota and provided a venue for constituents and legislators, homeowners and local government, and organizations and volunteers to make meaningful connections with each other. Conservation Minnesota looks forward to continuing the tradition of this bi-annual event in 2021.