Steps away from the iconic Lift Bridge in Duluth's Canal Park is Vikre Distillery. The small cocktail bar crafts handmade drinks with ingredients from the Lake Superior watershed. Their whiskeys, gins, vodkas, aquavits, and specialty liqueurs are organic, zero-waste, and unique to the North Shore.
The Vikre website states: "The nature and culture of Northern Minnesota are our inspiration and our terroir." And while Vikre's owners say they can't think of a better place to make spirits, Lake Superior is both life-giving and unforgiving.
Head distiller and founder Emily Vikre grew up in Duluth. After a tour out east for corporate jobs, and a PhD in food policy and behavioral theory from Tufts, Emily and her husband, Joel, returned to Duluth to build their family and business. The craft distillery based their business model on three main principles, or as the Vikres call it, their "triple bottom line—overlapping people, planet, and profit." 
While Duluth has made national headlines as one of the most "climate-proof" cities in the country, it is not exempt from the impacts of climate change. "Seeing the temperature change of the lake water, storms, droughts, and heavy rains, it would be silly to try to pretend that we are escaping from climate change," remarks Emily.
​​Clean Water and Distilling
An essential resource for any brewery or distillery is clean water. The water Vikre uses is clean, cold, and straight from Lake Superior. Or at least it is for now. As the temperature rises, Emily worries that the abundance of freshwater they rely on might be threatened. 
 
University of Minnesota-Duluth Professor Dr. Jay Austin, stated in a Great Lakes Now article that Lake Superior is one of the fastest-changing lakes in the world. Warmer waters threaten the balance of the lake, and climate impacts include lake level changes, storm surges, extreme events, and algal blooms. As a researcher of large lakes, winter processes, and climate change response, Austin says changes "will affect our culture."
The Distillery and Extreme Weather 
Vikre's location in Canal Park gives it access to the water it needs, as well as the tourism that helps it thrive. But being less than 400 feet from the Great Lake has brought new complications as extreme weather from the rapidly changing ecosystem has impacted their brick-and-mortar location. 
The great storms of Lake Superior are legendary, and their frequency and strength are being exacerbated by climate change. "We have had several years with 100-year storms. Three years in a row, Canal Park flooded, and the lake walk was ripped apart," says Emily. Waterlines for the recent storms are still visible on Vikre's basement walls. 
The most damaging storm happened one cold afternoon in October 2018. The frigid temperatures caused layers of ice to form over the canal, helping funnel water straight down Lake Avenue. With water pouring in, Emily rushed to pack up and send everyone home. When a wave crashed on her car in the parking lot, she knew it was time to choose human safety over protecting her business.
  
Other businesses and eateries in Vikre's historic neighborhood, including the famous Grandma's Saloon & Grill, have also seen the physical struggles and economic impacts. Some neighbors struggle to secure adequate insurance as the flood zone continues to expand.
Creating Climate Resilience 
Duluth is focusing on helping preserve Canal Park by making plans to build a new seawall this spring, but more efforts are needed to protect this area and its business. 
 
With its historic investment in climate action and resiliency, the Build Back Better Act could help areas like Canal Park by investing $6 billion in funding to conserve, restore, and protect coastal habitats. For Great Lake communities, this funding could mean the difference between building a thriving tourism destination and the abandonment of some of our most iconic coastal neighborhoods. 
 
Learn more about Vikre Distillery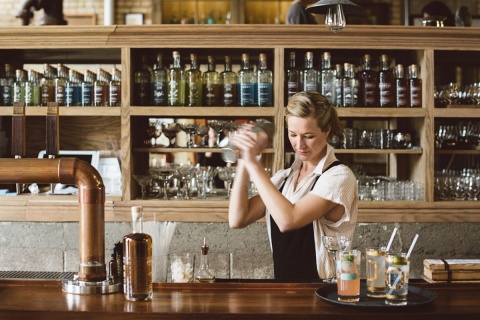 Emily Vikre, photo courtesy of Lucas Botz