Conservation MN

News
What I learned at Bloomington's Conservation & Environmental Issues Forum
Oct. 28, 2019
When we think about debates around conservation and environmental issues, a lot of folks think about what goes on at the state Capitol or in Washington, DC. To be sure, those big debates are important, but it's also important to remember that a lot of the work it takes to protect the Minnesota we love happens at other levels of government.
This is why I was really glad to be involved in a public forum dedicated to what candidates for local office in the City of Bloomington thought about these questions. I organized the event in my capacity as the West Metro Regional Manager for Conservation Minnesota, along with the Minnesota Valley Chapter and the Bush Lake Chapter of the Izaak Walton League. It took place on Thursday, October 17th at the Creekside Community Center in Bloomington.
The event featured a lively discussion of many of the conservation issues and choices that Bloomington faces including:
It struck me during the forum how important cooperation between different levels of government is when we try to address complicated conservation-related issues. For example, Nine Mile Creek has too much salt in it, but by all accounts, the city is a state leader in winter road salt application best practices. Private residents and business owners in Bloomington and other communities are likely putting down too much salt, which makes its way into the creek.
It was great to hear the candidates' support for Bloomington's continued leadership on conservation issues. Those attendees were current city council member Tim Busse, who is running for mayor, and current city council members Shawn Nelson and Dwayne Lowman, who are running for reelection to the council. Shawn Nelson raised the idea of retrofitting the city's existing fire stations to improve their energy efficiency.
Image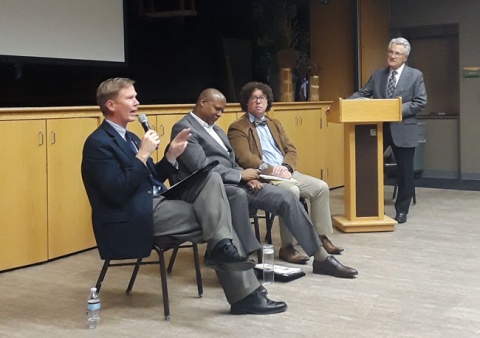 I was also reminded about all the work that's left to do and the need to keep finding ways to work together across communities and governmental units on a shared vision of protecting the Minnesota we love.