Conservation MN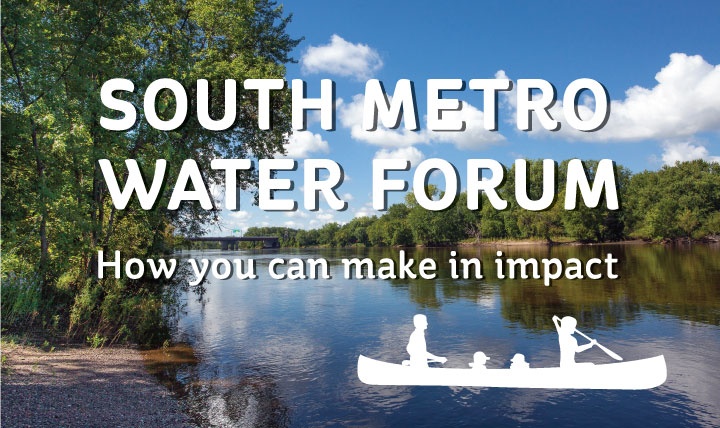 News
South Metro Water Forum: How You Can Make an Impact
March 27, 2019
In Minnesota, building healthy and prosperous communities and being good stewards of our land are values that have always brought us together. Through our work at Conservation Minnesota surveying over 80,000 Minnesotans to find out what they care about, water always takes the lead.
Because water is such an important issue to all of us—this spring Conservation Minnesota is bringing back the South Metro Water Forum. The event will educate and inform all who are interested in the successes and challenges around water quality in the region and our state, and what you can do to make an impact in your own home or community. The 2017 water forum was a great success and people have made it clear that they want this opportunity to connect around water to continue. I hope that you will join us for the 2019 South MetroWater Forum: How you can make an impact.
The theme for this year's forum is to help homeowners, local leaders, and legislators find ways they can make an impact in their communities. Whether that's learning more about what your neighbors are doing, signing up to be a Master Water Steward, networking with others who care about clean water, or taking inspiration from some amazing speakers, you will find something to help you make an impact.

We are very excited to announce that Minnesota Pollution Control Agency (MPCA) Commissioner Laura Bishop will be providing the keynote speech. Commissioner Bishop was appointed to lead the MPCA in January 2019. She is a leading corporate and public affairs executive with a demonstrated record for motivating diverse coalitions to achieve results. A strategic leader who easily navigates and communicates complex issues to internal and external audiences, Laura has held senior roles in both the private and public sectors. Other speakers include Dakota County's Senior Groundwater Protection Specialist Jill Trescott, Eagan Water Resources Manager Eric Macbeth, and GreenCorps Members Jes Braun (Rosemount), Kate Johnson (Rogers), and Megan Frisvold (StPaul).

I look forward to seeing you at the South MetroWater Forum: How you can make an impact on Saturday, May 4th at the School of Environmental Studies (12155 Johnny Cake Ridge Rd, Apple Valley) from 9:00am to 12:00pm. Doors open at 8:45am with breakfast and networking. Local organizations will be set up at booths to provide you with opportunities to get involved with clean water efforts in your community.
This event is free and open to the public but we ask that you please RSVP.
 avery@conservationminnesota.org
612.767.1572
I hope to hear from you soon!